Brown & Bryant Superfund Site GW Monitoring
Arvin, CA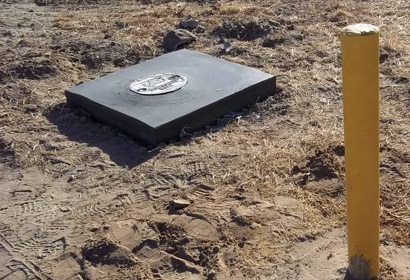 Eco recommended the use of the Low Volume BarCad sampling method that reduced the groundwater sampling time by over 50% and saved $500K in IDW management and disposal costs
Eco has a long term relationship with the Albuquerque District. We have been working for the District for the past 10 years at the Brown & Bryant Superfund site in Arvin, CA. Throughout that time, Eco has helped the District and the USEPA better understand complex hydrogeologic conditions of three aquifer zones amidst changing water supply demands.
The Brown & Bryant (B&B) facility operated as a pesticide re-formulator and custom applicator facility from 1960 to 1989. The facility formulated agricultural chemicals, including pesticides, herbicides, fumigants, and fertilizers for sale to the local farming community between 1960 and 1968. In 1981, the facility was licensed under the Resource and Conservation Recovery Act (RCRA) as a hazardous waste transporter. Contamination of soil and groundwater resulted from inadequate procedural controls, chemical spills during operations, and leaks from a surface wastewater pond and sumps.
Eco has completed or is completing the following tasks under contract of the U.S. Army Corps of Engineers, Albuquerque District:
Well network design
Arbor well design
Groundwater monitoring
Remedial action support
Finalization of city well installation requirements
Cap repairs and maintenance
Operations and maintenance support
Monitored natural attenuation plan
Monthly sampling and analysis of city wells
This project scope and magnitude is representative of a wide range of services that Eco provides. The extent of this project required the efforts of all levels of management and professional staff to accomplish on-time and on-budget delivery of multiple, concurrent Task Orders.
"Eco and Associates has earned the trust and confidence of the Superfund Site management team through effective execution of the RI/FS, RD and RA phases of the project."

- Chris Markowski, PG, IRP/MMRP
Program Manager - CARNG
September 2012