Demolition of a Petroleum Storage Depot
Norwalk, CA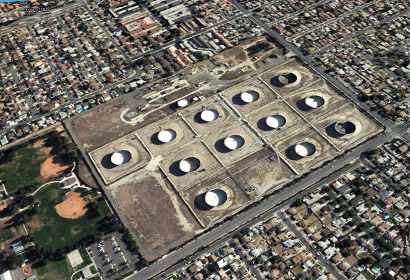 Work Plan
Health & Safety Plan
Community Outreach
Clean & Remove 13 Above Ground Steel Tanks
Demolish onsite buildings, Piping,
Eco & Associates was contracted by the United States Army Corps of Engineers to remove identified aboveground storage tanks, building structures and salvage appropriate materials at the March Air Reserve Base Norwalk Tank Farm. All funds generated from salvage were returned to the federal government to be reinvested in improving the site. Eco provided a plan for the demolition of items on the site for approval prior to initiating work.
All Tanks were then cleaned and removed as well as piping, appurtenances, truck loading racks, several onsite buildings, and areas where piping and appurtenances had been stockpiled were to also demolished and/or salvaged.