Michael Gibbs
Administrative
Project coordination, identification of processes, needs, resources, system and program specifications
Proposal writing and scope of work development
Identification and development of applications for engineering, GIS and planning projects
System Architecture
Experience in massively scaled environments
CDN deployments
DA/DR strategies and technologies
System monitoring, issue tracking and recovery automation systems
Database administration (MySQL, MSSQL, Oracle, ArcSDE)
Detailed knowledge of systems architecture and hardware
Languages
JavaScript, PHP, SQL, Perl, Python, C, C++, Visual Studio, Visual Basic, Arc Objects
Geographical Information Systems
ArcGIS, Arc Catalog, ArcView, Arc Info, ArcToolbox, ArcObjects/VBA, Eco MapServer Toolkits, Minnesota MapServer
has an expertise in project coordination, identification of processes, needs resources, and system and program specifications. He has experience in the use and development of software applications related to GIS and has been the database administrator on projects that have utilized MSSQL 2000, ArcSDE, and MySQL. His talent in identifying and developing computer applications for engineering and planning projects has saved clients tremendous amounts of money, time, and resources by streamlining their data structures and workflow into a user-friendly applications and/or data structures.
Mr. Gibbs is very proficient in multi-platform and massively scaled environments. His detailed knowledge of systems architecture and hardware integration has enabled him to streamline processes and applications thereby creating an environment that defines the workflow. Mr. Gibbs specializes in multiple Geographical Information System technologies including ESRI, Minnesota MapServer, Google Map API and Eco's custom mapping toolkits.
Relevant Experiance
Eco & Associates, Inc. - (USACE, So. Cal Gas, City of Carson)
Chemistry Analysis, Project Management & GIS Software
Mr. Gibbs created custom software to track and perform analysis on environmental information. This system is web-based and performs chemistry analysis and reporting on collected laboratory information.
The system is integrated with GIS capabilities providing a mechanism to, for example click on a monitoring well and view associated chemistry information. There is also a document share point in the interface, facilitating users with a collection point for documents related to sites or features on the map.
To assist in adoption of the new application, an online video based training manual was produced to facilitate an easy transition to the new system.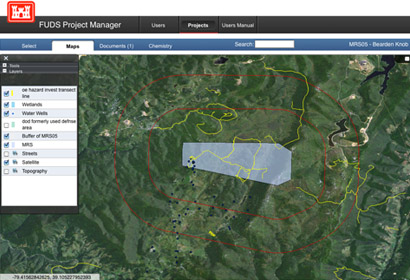 US Army Corps of Engineers
Project Management Analysis Portal
Mr. Gibbs provided the US Army Corps of Engineers (USACE) with a centralized portal to report on the current status and run on the fly analysis of the various active projects. This application also provides a central data repository to upload and manage files associated with projects. There are currently over 40 different reports that are generated by this application and because of its modular framework, more can be easily added when needed.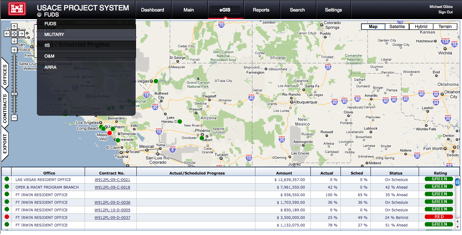 Los Angeles County Metropolitan Transportation Authority (MTA)
Mr Gibbs created a web based mapping application using open sources tools to create the "Planning Toolbox" this program is used to assist their Long-Range planning division to develop and maintain GIS and related project data related to ridership survey information. Users of this application can also be used to create printed maps from the GIS data in the system.