Groundwater Monitoring & Landfill Maintenance
Los Alamitos Joint Force Training Base, CA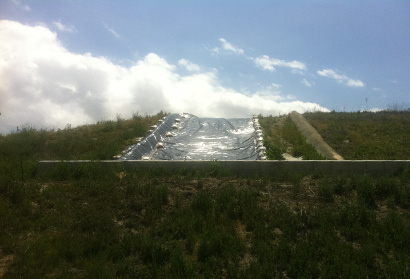 A segment of the waste consolidation cell covered with plastic sheeting in order to minimize and prevent runoff pollution or dust emissions during monitoring.
Eco & Associates, Inc. provided a wide range of Environmental Remedial Services for Los Alamitos Joint Force Training Base (JFTB), an active base, and coordinated with staff to minimize impact on Base operations. Eco performed the Base-wide groundwater sampling; monitoring well abandonmnet; landfill operations and maintenance (O&M); groundwater and soil remediation system O&M; and site investigations of groundwater and soil contamination. The JFTB facility is the State coordinating center for the Governor's Office of Emergency Services. Eco re-evaluated the remediation systems and the phytoremediation on site to optimize the operation and maintenance program. Our team recommended and implemented low-flow sampling that reduced the groundwater sampling time from 3 weeks to 3 days, saving more than $100K in project costs.
Other services provided include:
Modified the groundwater treatment system to bring it into compliance with city electrical codes
Re-designed the groundwater extraction pumps and filtering system to reduce the sludge volume by 80 percent and save the Government $60K per year
Performed maintenance and expansion of the phytoremediation system
Sampled and analyzed multiple monitoring wells and prepared summary reports and recommendations
Performed operations and maintenance of the landfill
Designed a storm water collection system for the landfill, reducing water consumption by 60 percent
"[Eco is] by far the best contractor that I have worked with in the last few years. They are very knowledgeable competent, responsive and honest. They are always willing to turn problems into opportunities in order to help out our organization."

- Chris Markowski, PG, IRP/MMRP
Program Manager - CARNG
September 2012