Soil Remediation
Port of Los Angeles, CA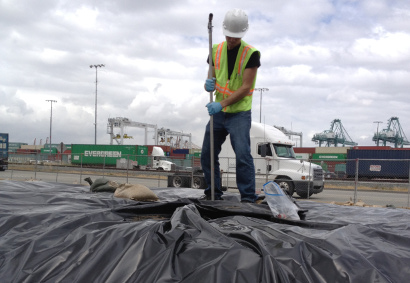 The soil stockpiles were covered with plastic sheeting in order to minimize or prevent runoff pollution or dust emissions from stockpiles.
Eco & Associates, Inc. was contracted by the Port of Los Angeles to provide environmental services at the China Shipping Terminal Expansion Project located in the port. Eco conducted soil sampling at the site, performing remedial excavations and chemically profiling stockpiles on site. Eco handled the loading, transportation, and disposal of the stockpiled soil at an appropriate disposal and recycling facility.
The particular tasks completed included:
Confirmation sampling of the completed remedial soil excavations
Stockpile profiling
Loading and off-site transportation of stockpiled soil